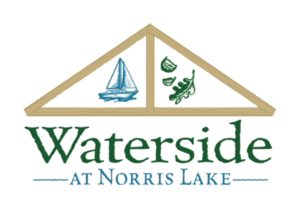 About Waterside Condos on Norris Lake
» The Development
Waterside has been designed by Fugleberg Koch Architects of Orlando, Florida, one of the leading architecture firms specializing in luxury lakefront residences and communities. The first phase of the condominium development consists of one, two and three-bedroom villas with prices starting at $129,900. Buildings 1 thru 4 of The Villas are complete. The Tower condominiums consists of three buildings of 6 stories each, with covered parking beneath. Tower 1 of 3 is complete. The next phase will be Tower 2.
» The Developer
Waterside Group LLC., is a private development company founded in 2004 by a team of respected professionals committed to creating a place where you can enjoy the tranquil beauty of one of the most scenic lakes in the Southeastern United States. Waterside Group uses a hands-on approach, guided by meticulous individuals that are involved from inception to creation on each project. Considering all aspects of the development process, the staff of Waterside dedicates themselves to producing a development that owners, their families, and all Norris Lake enthusiasts can be proud of for generations to come.
Waterside on Social Media
This error message is only visible to WordPress admins

No posts found.

No posts made to this hashtag.