Waterside Marina at Norris Lake
Waterside Marina is located on beautiful Norris Lake just 20 miles north of Knoxville, 20 miles east of Oak Ridge, and 60 miles northwest of Pigeon Forge and Gatlinburg, Tennessee. Norris Lake is in East Tennessee on Norris Dam.
Prior to recently completed extensive renovations, Waterside Marina was formerly known as Andersonville Marina. Andersonville Marina was the first boat dock on Norris Lake. Established by the Jim DuBose family in 1938 not long after completion of Norris Dam, Waterside Marina continues today under the tradition of hospitality and service with our helpful staff. Come, relax, and enjoy the beauty and adventure of East Tennessee with us at Waterside Marina.
For a family vacation on the water, our pontoon rentals are the most popular of the watercraft rentals. Take one of our pontoon boats out for a day and enjoy a breathtaking sunset or head out for a great day of fishing. Whether fishing the shallowest of coves or trolling for the famous striped bass along the ledges of Norris' islands, we have the boat for you! A courteous and professional staff is always on hand to provide on-the-spot training, directions, and safety information to accommodate all boating enthusiasts.

We offer:

Covered and Open Boat Slips
Pontoon Boat Slips
Pontoon Boat Rental
Houseboat Slips
Excellent Ski Area
Super Fishing Territory
Good Parking Facilities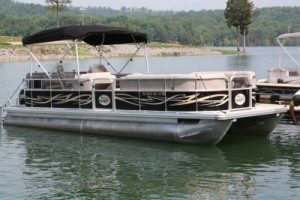 •Slip Rentals             •Boat Rentals           •Restaurant           •Shipstore           •Campground